In this guide, we will take a broad look across the customer journey and the web development workflow and see where you might uncover some hidden costs. 
Uncovering hidden costs of your Drupal investment
We notice a pattern where customers are surprised by cost-savings, perhaps because they hadn't imagined things could be any different. 
If you're looking at nothing versus paying for an integrated service to manage your Drupal sites, the cost comparison may seem obvious if you're only looking at outgoing cash. Are you taking into consideration how these choices are burdening your organization? 
The markets today put increasing pressure on organizations to deliver a better digital customer experience. When organizations do invest in customer experience, they decrease their costs of maintenance and customer acquisition and increase the lifetime value of each customer they acquire. 
Quick overview: what do we mean by a DXP approach?
We develop an integrated vision that is captured in our Digital Experience Platform. It changes how organizations approach their work. 
Together with our clients, we look at our client's websites as experiences and consider the entire customer journey. We do a functional analysis from the moment potential customers land on the site through to supporting their continued customer experience. 
From an operational point of view, we conduct a comprehensive Drupal audit of performance, security, architecture, and code. We discover bottlenecks and creative blocks that slow down the flow of work. 
All of the improvements we've developed have been applied to our open-source digital experience platform that makes it easier for smaller and mid-sized companies to get the benefits of integrated tooling without having to build and customize it all themselves. We support and enable our customers with training on integrated development and content creation workflows. 
Our open-source Digital Experience Cloud is built on Drupal. This includes a hosting and support service with around-the-clock monitoring and updates; dev-to-deploy workflows; and an application and infrastructure level SLA. This frees up time, saves you money, and enables your teams to do more.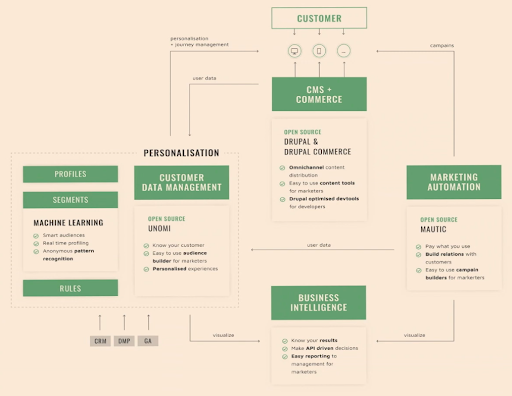 1. Lower costs by expanding the technical capability of your creative teams
We feel strongly that creating tools that empower teams to do more gives our customers a competitive edge. They can respond more quickly to their user's needs and adapt with new content, landing pages, and communication tools. 
It demotivates teams when it's time-consuming to get started and to implement ideas. High running costs prevent people from taking creative risks. Maintenance costs drag time and attention away from what matters. 
Our customer IOS Press reported a drastic decrease in time to market for launching new campaign sites after adopting our Digital Experience Platform. Their publishing house manages 80+ scientific and medical journals for a worldwide audience. We developed a Platform Installer to help them launch new IOS Press campaign sites in minutes. 
They don't need to wait for a site to get provisioned. They don't need to wait while someone else builds the site. They have a functional starting point for creating new campaign sites. The site builders don't have to wait on developers, and the developers don't have to wait on the system administrators. 
This not only frees up developer time, it also enables individuals to take more creative risks, play, and build new sites and pages quickly. This, in turn, speeds up time-to-market with new features.  That gives organizations a competitive edge that helps them grow and scale. 
Questions to ask
Is anyone sitting idle while they are waiting on someone else's work?
Are projects queued and waiting because of some operational or infrastructure requirements? 
How long does it take to get a new site provisioned. 
Where are you experiencing error-prone tasks that could potentially be automated? 
How much time are members of your development team spending on building developer tools?
2. Can you speed up time to market with new features and content?
Our customer Boerenbond is the largest organization in the agricultural sector in Belgium, providing education and information services to their members. They needed a way to get to market fast, with new changes and new content, but they had one limitation: they only have one small internal team. 
They wanted to handle distributed content management without relying on costly external service providers. The tools we built for them, with role-based workflow management, made it possible to increase the capabilities of their team members in a secure and reliable way. They were able to realize a 50% cost saving for adding additional websites on the platform. 
Dropsolid Rocketship comes with a content management workflow out of the box. It includes essential tools to enable your content teams to work independently, without needing to rely on developer time. This is an empowering publishing experience. 
Rocketship includes essential features that many business sites need like a contact form, a blog, job listings, and products. This gives developers more time to focus on features that make their business unique. That, combined with Dropsolid Platform, means you can spin up sites in minutes. 
Questions to ask
Is there something which your team is skilled and capable to do, but otherwise, they aren't given the autonomy because of a system limitation?
Does your team feel hampered because of some limitations in a service agreement or features?
Drupal is a powerful site building tool. Can your marketing and content teams create landing pages and content without needing developer support?
3. Can you lower costs for customer acquisition with better SEO?
We've built an install profile that has great SEO out of the box. This takes the guesswork out of the many search engine configurations for Drupal. Getting the defaults right saves time so our clients can focus on creative strategy. 
Our customer ShowTex invents, manufactures, and innovative fabrics that set the stage for event locations around the world. They have highly technical content to educate and support customers in five languages. They need their site experience to be smooth and fast. Organic search is vital to reaching this niche audience of event professionals around the globe. 
With our help, they have improved their average page load time and improved search engine optimization. Search engines today look at the experience, including page load time, as well as the content of the page. As a result, these improvements have increased their website visitors from organic search by 28%. 
This effectively lowers the costs of customer acquisition and frees up their marketing team to create engaging learning content for customers. 
Watch: Drupal SEO Pitfalls and How to Avoid Them
Questions to ask
What are the costs of customer acquisition right now?
How much are you investing in sales or paid advertising?
Ask your sales team if customers are coming into the process well informed or starting from square one?
Ask new customers where they first discovered you or looked for information about your services or products? 
What % of your traffic is coming from organic search?
4. Can you reduce support costs by improving customer experience?
The costs of poor customer experience are sometimes hidden in your organization. 
Websites today are the shop fronts and service desks for businesses. People expect a powerful on-site search and self-help tools to troubleshoot their problems. Personalized content and better search results can help customers find the most relevant and useful information more quickly. 
We've been using machine-learning enabled search for Drupal to improve search results and offer more accurate and relevant information. Working with our customer Antwerp University Hospital we improved search result accuracy from 55 to 91% in just 2 weeks. As a result, they reported they had a drastic decrease in incoming support calls. 
If your customer support teams may be burdened with requests, do they know why? What if customers have tried and failed to find self-service information before coming to the support team. Investigate by asking customers what they had tried before coming to the support team. 
Read more: Improve On-Site Search with Machine Learning and Drupal
Questions to ask
Are problems in the customer experience adding to the customer support burden? 
Investigate if customers who come to support have tried other options for self-service before. 
Find out if they have attempted to resolve their queries with online searches or on your website before they came to your support team. 
Ask the right questions to uncover hidden costs
We are always looking for ways to empower creative teams. We build our platform in collaboration with our customers. We know from experience why customers want to control and flexibility. 
We've learnt that by enabling our customers to scale and grow, we can scale and grow alongside them. We've built that vision into the tools we use every day. 
We'd love to hear from you: which kinds of tasks are time-consuming and bothersome? Is there anything we missed? 
Also, we put a guide together to help your team look at the big picture across your organization. It's part of the approach we take to do a start-to-finish analysis of both the customer journey and your deployment pipeline from idea to delivery.